About Us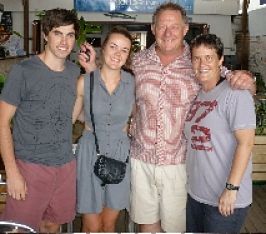 Peter Thomas and Justine Noy own and operate Pacifique Vue.
Peter and Justine have been operating an accommodation business on the Dalmatian Coast in Croatia since 2008. Adriatic Cottages is based in the UNESCO listed medieval town of Trogir, north of Split. For more information about their accommodation options, The Venetian and Salona, please visit www.adriaticcottages.com.
When in Australia, we are based in Melbourne and the beautiful Macedon Ranges of Victoria. Peter manages the Pacifique Vue and Adriatic Cottages businesses and Justine practises as a lawyer (www.noy.com.au).
Rebecca Hawking is our business development manager.
Rebecca's enthusiasm for Vanuatu and Pacifique Vue is a great help to us and our guests.
Sam Elimas and Joy Iau are the on site managers at Pacifique Vue. Sam and Joy live at the property and keep the gardens, pool and lawns in great condition. Joy looks after the house. Sam and Joy do a wonderful job looking after Pacifique Vue and our guests.